Looking for heating and air conditioning services in Clemmons or the surrounding area? For over 30 years, Newman Heating & Air has been trusted by homeowners to provide dependable, quality, and cost-effective service in the Triad area. Browse through the list of services we offer below, then fill out our service request form or call 336-766-1016. Keeping your home comfortable all year long is our business!
Newman Heating & Air is an authorized Rheem dealer. Rheem heating and air conditioning systems are consistently ranked as one of the best values in residential HVAC systems. They offer excellent price-to-performance.
Heating System Services for Clemmons and Surrounding Areas
The winters in Clemmons and the western part of the Triad can get more than a little chilly. When it's cold outside, you need an efficient heating system that's been well maintained to keep you and your family warm inside.
Heating System Installation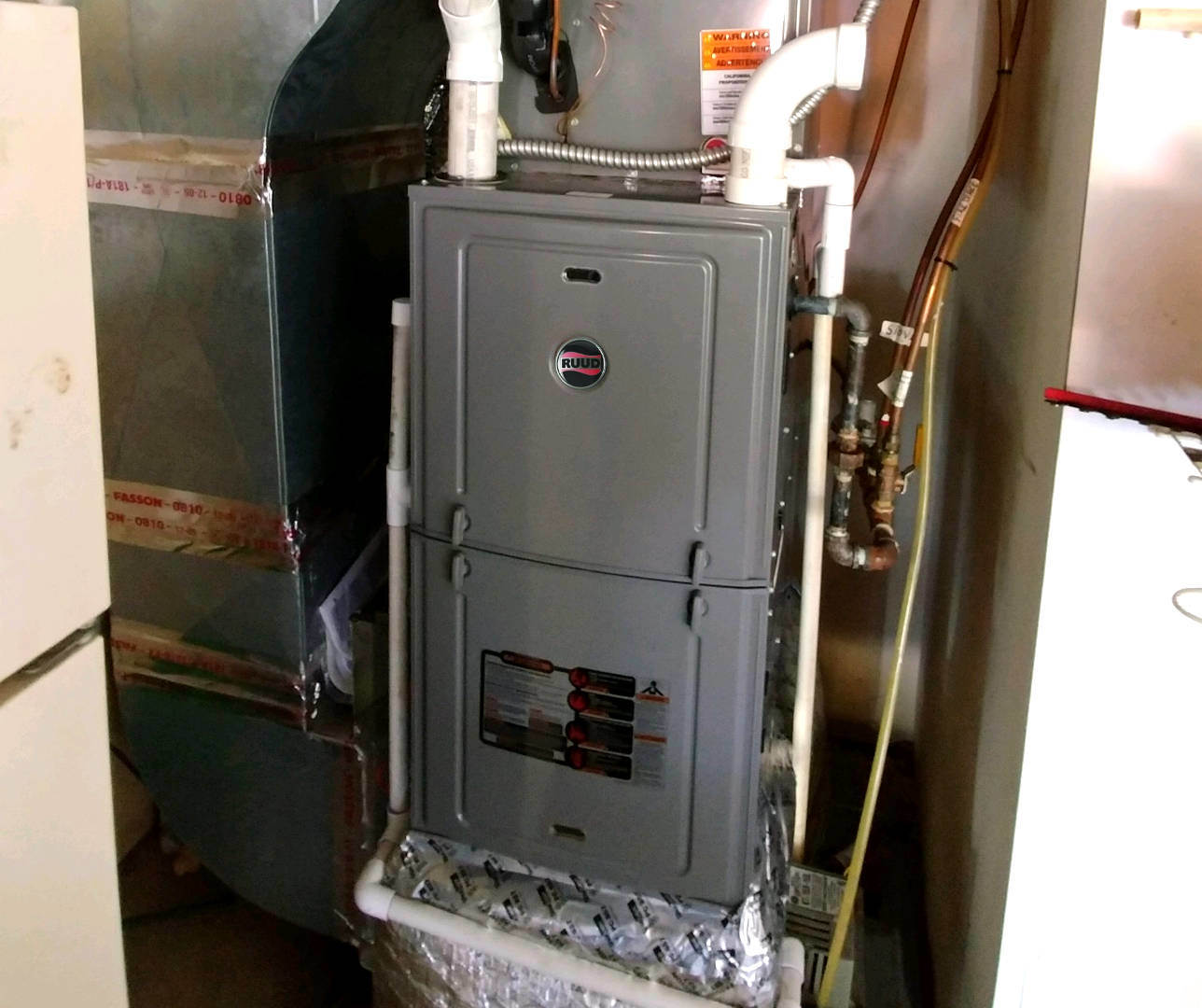 Is your heating system more than 15 years old? It may be time to consider installing a new unit. The major components of a heating system begin to show wear over time, even if they're well maintained. Replacing an aging heating system with a newer, more efficient system can save you hundreds of dollars each year in heating costs.
Before suggesting a replacement, we'll thoroughly inspect your current heating system. Replacing an entire system is a big expense. We'll help you analyze the potential savings of a more efficient unit against the lower upfront cost of repairing your current system. If installing a new heating system makes the most sense to you, we'll calculate the heating requirements for your home based on its heated square footage. We'll make sure you get a system that is the right size for your home, keeping your heating bills as low as possible for years to come.
Building a new home? We also provide heating consultation and installation for new construction.
Contact us today and get a quote for:
Heat Pump Installation
Furnace Installation
Gas Log Installation
Heating System Maintenance, Service & Repair
A heating system is made up of hundreds of parts. Each one of those parts affects performance and efficiency. And that performance and efficiency is the biggest factor in determining how much you spend each year to heat your home.
Worn bearings in a heat pump or furnace blower motor will eventually cause that motor to fail. Replacing the blower motor in an older heating system can cost hundreds of dollars. One of the causes of excessive bearing wear is a system running more than it should. A reason that a system may run more than it should is a dirty air filter. Spending just a few dollars on a new air filter today can save you hundreds of dollars tomorrow.
That's why regularly scheduled maintenance and service of your heating system is so important. Making sure things like the air filter and heat exchanger are clean will help your system last longer. It also means it will cost less to run your heating system today.
Having Newman Heating & Air regularly maintain and service your heating system gives you peace of mind. You'll know that your system is running as efficiently as possible. We inspect and clean every major component of your system, addressing all areas that need attention. If we see signs of wear, we'll let you know what your options are. It may be that repair is possible or it may be a situation where a part replacement is required.
If you're in Clemmons or one of the surrounding cities or towns, contact us if you need:
Heat Pump Maintenance, Service or Repair
Furnace Maintenance, Service or Repair
Air Conditioning Services for Clemmons and Surrounding Areas
The average summertime temperatures in Clemmons and the rest of Forsyth County are consistently in the upper 80's. Having an efficient and well-maintained air conditioning system is a must for both indoor comfort and low energy bills. Whether you need a new system or service on your current system, Newman Heating & Air has you covered.
The effective lifespan of a typical central air conditioning system in North Carolina is 10 to 15 years. Beyond that, systems quickly start to lose efficiency.
Older systems also cost much more to repair and maintain. As companies discontinue models, finding replacement parts for older units becomes harder. And as of January 1, 2020, the EPA has banned the production and importation of Freon in the US. The cost to convert an older system that uses Freon to the new refrigerant, Puron, can be as high as $4,500.
If your energy bill skyrockets each summer when your air conditioner is running, it may be time for a new system. Call us and we'll come and give you an honest opinion of your most cost-effective options. We'll measure your home, perform a load-calculation assessment, and determine the exact size unit needed to efficiently cool your home.
We can also provide consultation and air conditioning installation if you're building a new home in Forsyth or one of the surrounding counties.
Call 336-766-1016 if you need:
Central Air Conditioning Installation
Freon (R-22) to Puron (R410A) Conversion
Cooling Load Assessment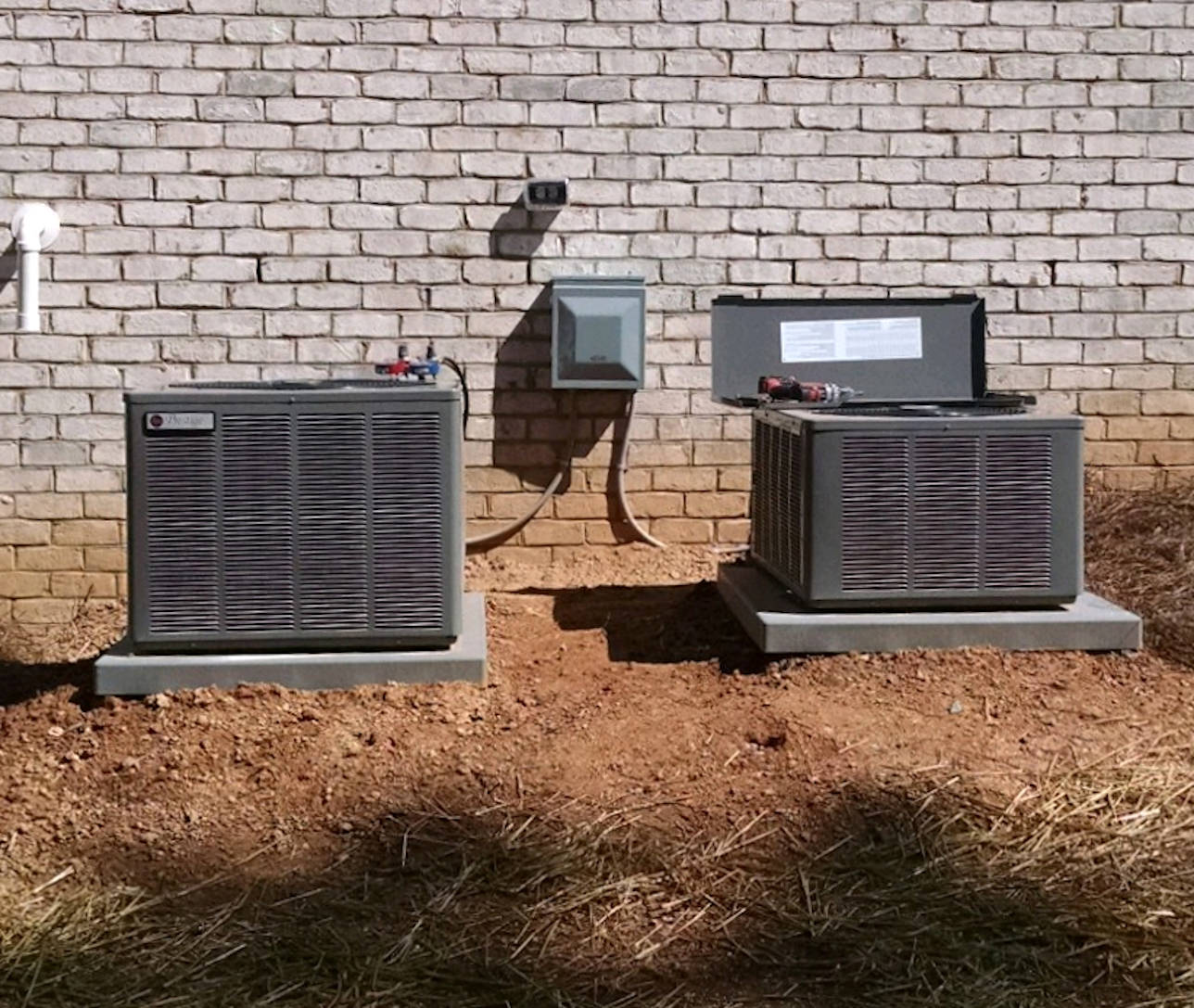 The most important thing you can do to keep your cooling bill low is to have your AC system serviced on a regular schedule. A well-maintained system is an efficient system.
Just like you need oxygen to survive, your air conditioning unit needs air to survive. You should change your air filter at least twice a year. If you have pets, have anyone in the home with allergies, or use cheap fiberglass filters, you'll probably need to change them at least every 60 days.
Our air conditioning maintenance includes replacing the filter, inspecting and cleaning all major components, and checking refrigerant levels. If we notice anything unusual, like excessively low refrigerant levels or frozen lines, we'll track down the cause and let you know what we can do to repair it. We'll provide you with all the options available and give you an estimate of the cost and repair timeframe.
We are a Rheem authorized dealer, but we can service and provide repairs for all major air conditioning brands.
You Can Count On Us
In our 30 years of heating and air conditioning service in Clemmons and the Triad, we've built relationships and friendships that will last a lifetime. We don't see you as a customer. We see you as a neighbor. We've been an accredited business with the Better Business Bureau since 2007. Since that time, we've maintained an A+ rating and never had a customer complaint. We're proud of that. And we do our best to make sure it stays that way on every job we do.
We're here to help you with all your heating and air conditioning needs. Fill out our service request form or call us at 336-766-1016 to start down the road to a more comfortable home and lower energy bills.