Do you want to make sure your air conditioning system last for years and your cooling bills stay low? Keep your system serviced and maintained.
Regular maintenance plays an enormous part in indoor air quality. Keeping your air filter changed can reduce dust, dander, and pollen. Anyone in your home with allergies, asthma, or other breathing problems will thank you for it.
Regular service will also help keep your repair costs lower. Have your system serviced at least twice a year and you'll be able to catch any potential problems early.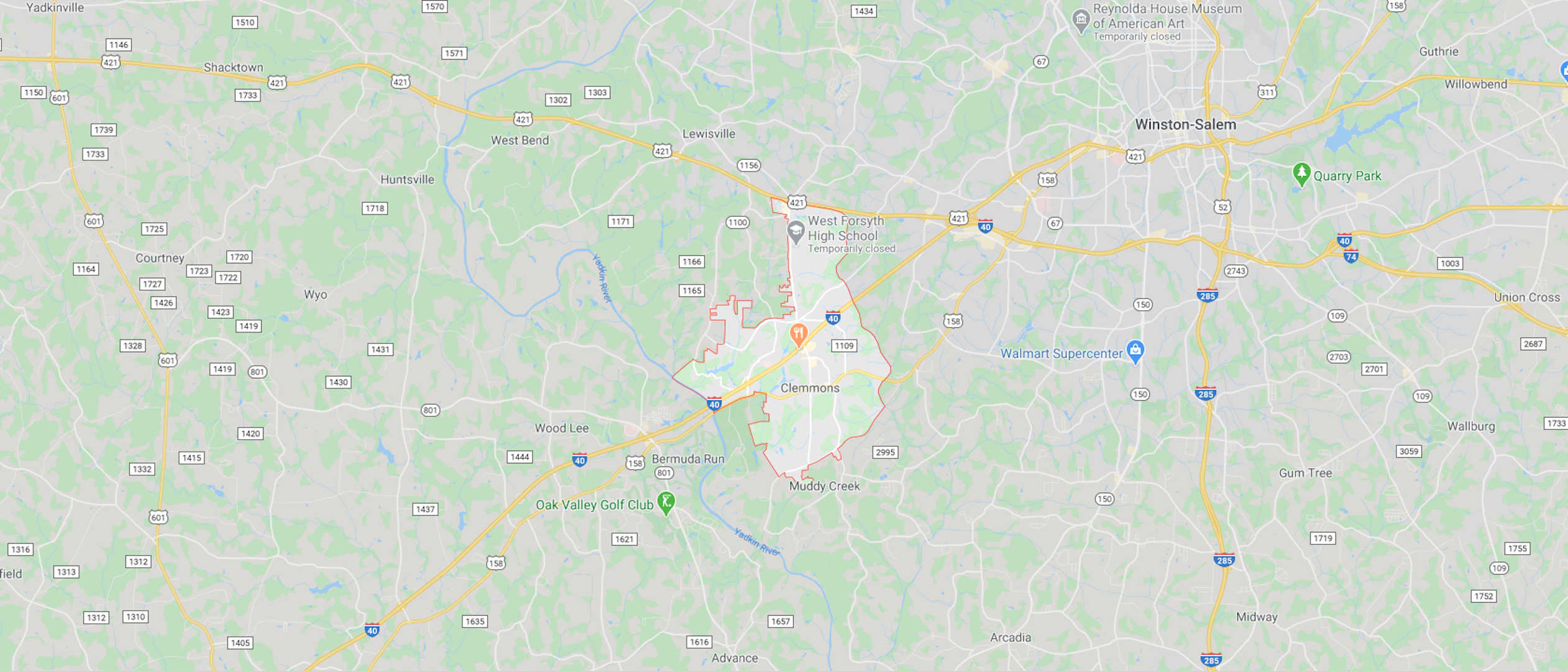 What Air Conditioning Maintenance Includes for Clemmons Customers
We start by checking the filters. It's one of the simplest, yet most important, parts of AC maintenance. Clogged and dirty filters can cause many problems with the system, including:
Poor air quality. A clean air filter is your first line of defense against dust and allergens. If you have indoor pets, you may need to replace your filter twice as often as homeowners without pets.
Higher cooling bills. A dirty air filter will cause your air conditioning system to circulate less air. This means it will run longer to reach to your thermostat setting.
Increased wear on major components. Keeping a clean air filter in your cooling system will help you get more years of service out of your unit. The leading cause of heating and air conditioning systems failing before their time is overuse.
Next, we check the air-handler unit and evaporator coils. Most homes built in Clemmons after 1965 have central air, so those are normally inside on top of a forced-air furnace or heat pump. If your home has radiant heat, the air-handler is probably in the attic.
We take care of several things when we service the indoor part of your cooling system.
We inspect and clean the evaporator coils. Dust and dirt on the coils can hold moisture and cause corrosion. Dust and dirt also reduce airflow over the coils which can cause ice to form on them.
We inspect the blower motor. The blower motor on the indoor unit circulates cool air throughout your home. If it isn't working properly, it will take longer for the AC unit to cool your home.
We inspect the drain tube. Did you know that your air conditioner was also a dehumidifier? As the unit runs, it draws moisture out of the air in your home. The cooling process creates moisture. This water collects in a drip pan that sits under the evaporator coils. It's carried out of the house by the drain tube. A blocked drainage tube can cause water build-up that may cause your unit housing to rust. It could also overflow and cause water damage to your home.
The outdoor unit of your AC system has a large fan, motor, and condenser coils. During a service or maintenance appointment, we inspect all of those systems and make sure they're working well. Debris and shrubs shouldn't be blocking the fan or airflow around the condenser coils.
Freon Vs Puron
The outside unit is also where we connect to your system and check coolant levels. Residential air conditioning systems use either Freon (R-22) or Puron (R-410A) as a refrigerant. The EPA has banned production and importation of R-22 as of January 1, 2020, and made the move to the more environmentally friendly and efficient Puron.
The Freon used in older systems has become very expensive. Freon now costs over $50 per pound if you can find it. Most residential AC units require between 5 and 15 pounds of refrigerant. A system designed to run on Freon can't use Puron. If you have an older system that uses Freon, consider converting it to Puron. You will need to replace the compressor, condenser, evaporator, and probably the refrigerant tubing. This can be very expensive. You may be better off putting that money towards a new, more efficient system. Contact us and we'll help you figure out which option makes the most sense for you.
Signs That Your Air Conditioning Needs Service
Here are some common warning signs that your AC system might need service. If any of these sounds like what's happening with your system, call 336-766-1016 to schedule a service call.
Your energy bills are suddenly higher than usual. It's normal to have higher power bills in the summer. Running the air conditioner is expensive. But if you're noticing that the bills are higher than last summer, it could be a sign that your air conditioning system needs service.
Your home isn't staying cool enough. A common cause for this is low refrigerant. Your AC system may have corroded evaporator coils, condenser coils, or tubing. This can cause a refrigerant leak. If your cooling system refrigerant is constantly low, we'll find the leak, figure out what caused it, and let you know how we'll fix it.
Your system runs continually. Blocked airflow, low refrigerant levels, a bad blower motor, a bad thermostat, or many other things could cause this. If Clemmons isn't in the middle of a major heatwave and your system is always running, have it checked.
Your system stops working. We know you will call someone when this happens. But don't panic. Your air conditioning system may not be dead. It could be something as easy to fix as thawing a refrigerant line. When you call us, you can trust that we will figure out what the problem is. You can also trust us to do the service right and as inexpensively as possible.
Wrapping It All Up
For over 30 years, homeowners in Clemmons and the surrounding Triad area have trusted Newman Heating & Air for all of their air conditioning service, maintenance, and repair. We've built a reputation of honesty, dependability, and service that we're proud of. We've been an accredited Better Business Bureau company since 2007 with an A+ Rating and no customer complaints. Ever. When you let us take care of your AC system, you can count on:
Longer lifespan
Lower energy bills
Year-round indoor comfort
Service with a smile
Don't wait until your air conditioning system has problems. Call us today to see how regularly scheduled service and maintenance and save you headaches and money.
You can also fill out the form below and we'll get back to you as soon as possible to schedule a system inspection and tune-up.
---